The Legacy Project -Book Appt
The Family Legacy
An Artist Project
Every family has their story. So many are lost over time.
The goal for The Family Legacy Project is to capture and document the special relationships you share with the people you love the most.
Your family legacy deserves to be photographed by a true Portrait Artist who creates artwork to be displayed on the walls of your home, to be enjoyed now and passed down to future generations as forever pieces.
---


For your participation you will receive:


A Complimentary Private Portrait Session in my downtown Vancouver WA studio.
A Beautiful Fine Art Print with full artistry.
Opportunity to use your gift toward a Beautiful Wall Portrait.
Complimentary Phone Consultation and Clothing Guide.
Your portrait and story will be Featured in a Portfolio Book showcasing the wonderful diversity of families.



---
DETAILS:.
You can choose any date available on our calendar but you must do that within the next 3 days. Once your appointment is booked we will call you to confirm! Please call or text the studio if you have questions.
So that we may accommodate you with the level of service you deserve, we do require a temporary, fully refundable $200 holding fee. This is to secure your portrait sitting and is fully refunded when you attend your scheduled appointments.

Lots more details are available in the FAQ lower down on the page.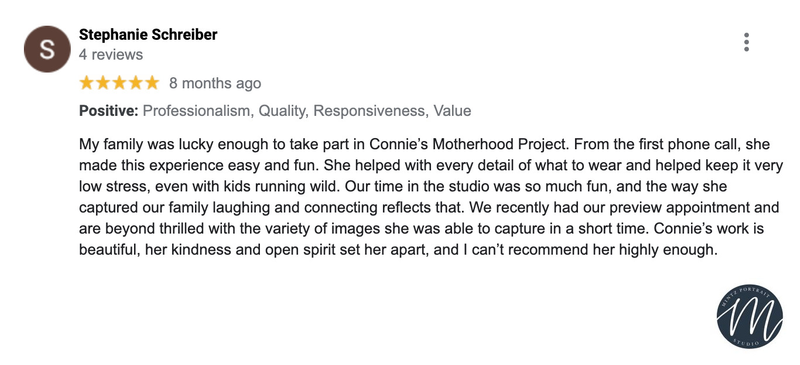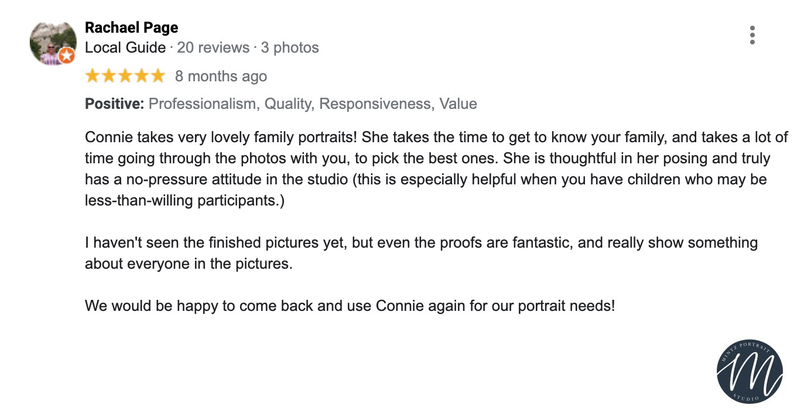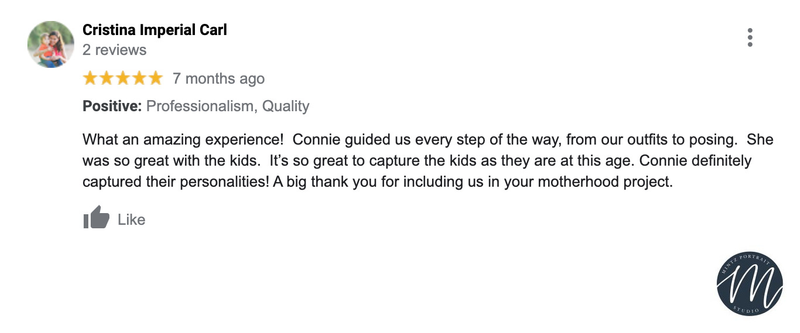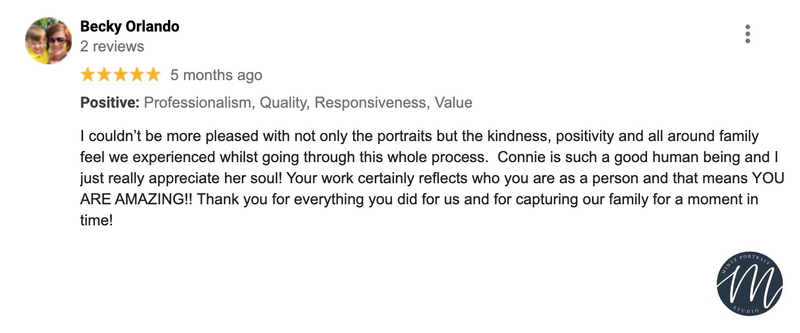 | | |
| --- | --- |
| | |
| | |
| --- | --- |
| | |
| | |
| --- | --- |
| | |
| | |
| --- | --- |
| | |
| | |
| --- | --- |
| | |
Why are you doing this project?
As a family business of over 10 years, I understand how important it is to celebrate family through portraiture and I want to encourage other families to do the same. Nothing says,"I Love You" more, to your children, then a beautiful family portrait proudly displayed in the home.
How many families will be selected?
We will select a wide variety of families to reflect the community in which we live. We will offer the project until we have a good representation to create a photo album to display in the studio showcasing a diversity of families. We photographed around 75 families in our Motherhood Project. You can read about the Motherhood Project here:
https://www.mintzportraitstudio.com/artist-projects/tribute-motherhood-project
Can we include our family dog?
We love dogs, but we do have a few rules. When scheduling we can work with you to determine if your dog is a good fit to be included in your portrait.
Are there additional cost to me?
Most families do find they fall in love with their family portraits and wish to purchase more; however you are not obligated to do so. You will receive the FULL portrait experience as our regular clients! We gift you the experience as well as the credit toward your first pose, but we know most everyone would like to choose more than just that one pose. Honestly, most of our guests want them all and of course we hope you do also! That said, there is no obligation to purchase anything at all. If you do decide you'd like to invest in our work, we can apply your reservation deposit or the value of your gift toward your artwork order.
What if my children are in school and our work schedules conflict with your appointment times?
We do have some weekend appointments available however they do book very quickly and we like to reserve our weekends so that our team can spend time with their families. Family is the most important thing to us, your family and ours. Most of our clients typically take at least a half day off and their children out of school because this is such a special experience. They spend quality time together getting ready and having fun with each other, then have a family meal or special treat after they leave the studio. Making a family day of the experience brings back beautiful memories as the years go by every time you look at your portrait.
Do you have a price list? How much are additional portraits? Can I just buy digital files?
We don't have a price list to send out since all of our portraits are unique to each client. We present detailed pricing during your viewing and selection appointment because pricing varies depending upon the finish, size and quantity of what you select and every person wants something different. We offer a range of portraits from large scale exquisite hand painted portraits at $10,000 to more modest sizes in photographic finishes beginning at $500. Our artwork is created like original art and priced like original art. We are not a digital only studio however, we do have the ability to discuss the option of a matching digitals of any purchased portrait. We also offer financing options, some with no interest options, to help clients be able to get what they love most.
We are expecting or just had a new addition to our family, can they be photographed?
We're super excited for you and are looking forward to meeting your new family member! We photograph children as young as 6 months old, we do however ask that they be able to sit up, if even just for a few seconds. If you have a newborn, we can schedule an appointment when the baby is 6 months old.